Home > News > Announcements
Closed beta coming to an end
2017-10-04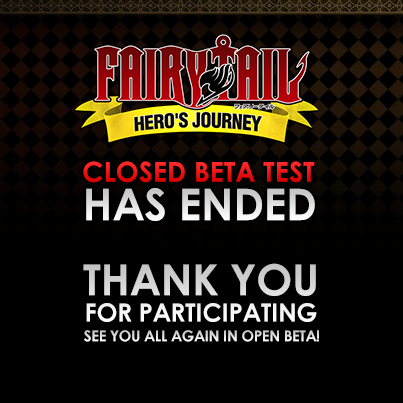 Greetings, Wizards!
We are very grateful for your time and effort helping us with this Closed Beta Test. You have successfully assisted us in collecting bugs, major issues, and personal player feedback. While it's been a great time seeing your views on Fairy Tail: Hero's Journey, we have a lot to work on! Closed Beta Test will end on October 10, 2017 @ 12am (midnight) PDT.
While we are offline, the developers, producers and art team will be hard at work. The developers have bugs and systems to adjust. The producers will be going through feedback and making important decisions. The art team will be getting all the cool stuff completed and approved. This is all in effort to make the game better and open more content as soon as we reach Open Beta stages.
Due to the amount of changes that need to be made as well as approvals on all new content, we do not have a definite date for Open Beta. Please keep following us on facebook and checking back on the forums and website for announcements. We will also email all of you that are signed up on our email list as soon as Open Beta begins.
As a special thanks to our beloved Fairy Tail: Hero's Journey players, we will be hosting a special event during this downtime. This event has not yet been announced as it is still being prepared, but we will say, you might win physical Fairy Tail merchandise and/or in-game prizes for OBT. Make sure to stay tuned to keep up with all the events!
Again, thank you so much for being part of Fairy Tail: Hero's Journey Closed Beta Test.